About Shoppable Product Tags
by Scopa Analytics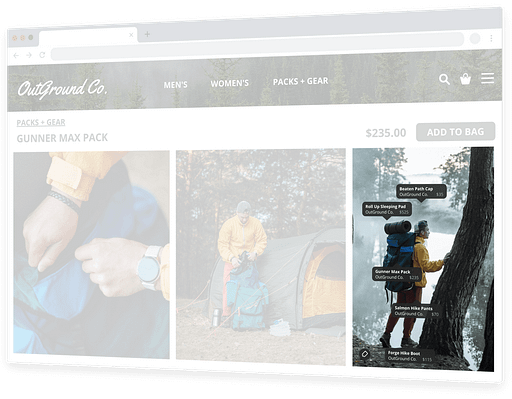 About Scopa
Scopa was born out of the need to find products quickly and evolved into bringing the best features in customer experience to the web for independent eCommerce brands and publishers. 
Large tech companies like Instagram and Pinterest have invested substantial research and testing into finding how to best optimize their content for engagement and purchasing. Now they leverage the content on their platforms to drive record revenue using features like shoppable product tagging. The only problem is that those features are locked down to their platform- meaning brands and publishers can't bring those same optimizations to their website content, catalogs, editorials or blogs.
Most companies in the publishing or eCommerce space don't have the time or money to develop custom solutions to keep up with those new developments and best practices. That's why we built Scopa. 
Our Mission
Scopa's mission is to make marketing more intuitive, data-driven and organic. By making it easy and affordable to bring the best features for optimizing content via shoppable product tagging, Scopa is working to level the playing field for independent brands and publishers alike. With Scopa, users can identify any products tagged in an image and click-through to purchase with ease, streamlining the customer journey.
"Scopa's aim is to democratize the best features in content optimization, like shoppable product tags, for all first-party content."

Mark Osuna Senn, Co-Founder
Focusing on First-Party Content
Scopa's goal is to help optimize the content across the internet that exists outside of social media platforms. First-party content. That means content that those businesses and publishers actually own and have full control over. Bringing the best in user experience features to this content can help those businesses optimize their content for engagement and revenue the same way large tech companies do on social media. As long as you have the ability to edit the code on a website, you can add shoppable product tags to its content.
Organic Product Discovery
When users find engaging content they are genuinely interested in, that gives enormous opportunity to drive those high-intent users to relevant pages for the items they're interested in. This is an intuitive way of scaling up the amount of affiliate links for publishers as well as increasing engagement rates. Commerce brands can work strategically to drive more impulse purchasing, streamlining the customer journey and work to increase average order value via contextual cross-selling. Taking advantage of the most engaged users and the most engaging content and making it easy for those users to learn more will optimize content and engagement all around.
Our Founders
Scopa Analytics is a technology and analytics company based out of Minneapolis, Minnesota with offices in Minneapolis and Chicago. Co-Founded by Mark Osuna Senn and Pablo Alguindigue, who come from digital marketing and technology markets respectively, saw a need one day when browsing a men's fashion website and having trouble finding a pair of sneakers in a given photo. They had affiliate links, but only for one product so the item in question wasn't actually explained in the article. Since then, the solution of bringing shoppable product tagging as a solution to this untapped market was born. Pablo and Mark were so used to seeing that shoppable product tagging functionality on social media, that bringing it to independent website content was a no-brainer.
Now, Scopa is building a foundation with an easy to use and affordable content optimization tool, the Shoppable Product Tagging platform. As it grows, Scopa will be adding more features as well as additional tools relating to analytics measuring content engagement, eCommerce optimization, and more.
If you're interested in investment opportunities, please email [email protected] with a little about your background and what you're looking for and we can see if it's a good fit.
Together, Scopa wants to optimize first-party content for independent publishers and brands.
Get started optimizing your content with any tier of Scopa free for 30 days here.