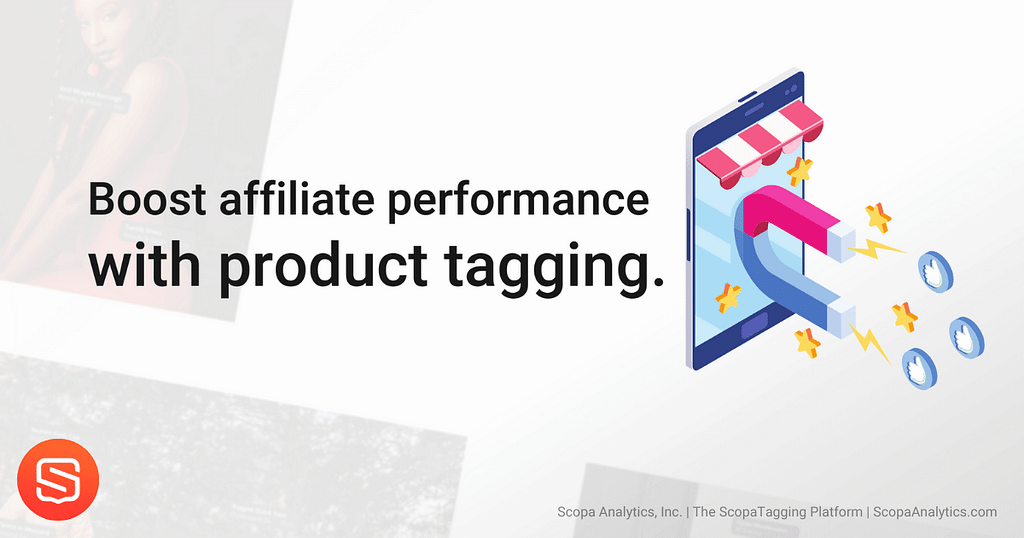 Build more affiliate links and earn more affiliate commissions. Simple right? Check this guide on how you can increase affiliate revenue using product tagging– the correct way.
Affiliate links are the quickest way for publishers and content creators to bring in revenue.
Utilizing their affiliate partners or an affiliate network, content publishers drive traffic to products for affiliate commissions.
Typically these affiliate links are in the form of in-text links in the middle of an explanation or a long description, or potentially a linked image. But in most instances, it is a lot of work to tee up a link for clicks. Links typically are directed to a broader landing page or a specific product page if partners have shared a product feed.
That is until "Product Tag Marketing" became available for websites. Now publishers can utilize "social media style" tags on their content to link to multiple items at once. (Think Instagram Shopping or Pinterest's Related Products.) All you need is a Tagging Platform linked to your website's content pages.

Let's take a look at the three main reasons your publication should be using tags for affiliate link building.
3 Benefits of Using Tags for Affiliate Link Building
Multi-Linking = More Revenue
No more forcing one image to link to one place. Link to multiple items from a single image. More affiliate links means more affiliate revenue. Plus dynamic tags typically receive higher click-thru-rates than a static image or text link.
Contextual Links on Any Content
Tags can spread product awareness and be featured on relevant images anywhere. Even if a post, article or story doesn't revolve around a product recommendation or pitch. Use images that are tagged and earning affiliate revenue on any post and be rest assured that they don't need any further context. Whenever you re-use an image featuring affiliate partner products for a new post or sto]ry, you continue to drive more traffic to those partners.
Greater Content Integrity
All the somewhat forced verbiage of teeing up a text link or image is over. We have all read the "I love the stripes on this shirt, I really recommend it. You can find it here at brandnamewebsite.com here". Each tag provides all the information you'd like to add, the item name, any labels and pricing can be added to the tags. When a user is interested and interacts with a given image, the tags will show up. Only showing up when relevant means less interruptions. Your content gets to retain greater integrity and skip the interruptions that traditional sponsored inserts cause.
Overall bringing tagging to content outside social media is a total game-changer for increasing affiliate links, improving audience engagement and tracking it all to boot.
The Product Tag Marketing space is growing immensely for digital marketers. Scopa Analytics created the Scopa Tagging Platform, the first for adding tags to content on any website. They operate using a SaaS model in which businesses and content creators can add tags to grow awareness, drive traffic and track performance via product tagging.
Final Thoughts
If you want to add product tagging to your online content to increase revenue please contact Scopa Analytics for a demo.