Scopa offers a variety of viewability settings that can let you customize when, and how your tags show up to users.
In the tag editor, where you add and edit tags on an image, if you click on the "corner button" it will open up the "Corner Button Settings" module.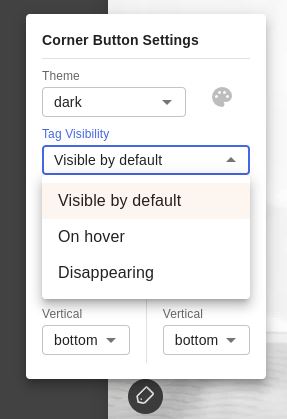 In that module, you can customize the theme and color of the corner button as well as customize tag visibility.
Here's a breakdown of what the different visibility settings mean.
Visible by Default
This means the tags will automatically be opened and visible by default on the image on page load. To keep best practices for UI in mind, the tags can still be hidden by the user after clicking on the corner button.
If a user hides the tags, they can always show the tags again via the corner icon.
On Hover
This will show a quick teaser and otherwise show the tags upon image hover or interaction.
Disappearing
Disappearing will show the quick teaser but otherwise not show the tags unless a user decides to show them by clicking the corner button.