Now that you have created your account with your domain, please follow the steps below to get started using Scopa Shoppable Product Tagging. We will go through how to set up your domain and get your first shoppable tag published. Scopa makes it easy with a one-time install and codeless workflow via our web app. Still need an account? Visit our pricing page to get a free 30-day trial of any plan.
Watch this video for a full overview and walkthrough of Scopa Shoppable Product Tagging. Otherwise, this article has everything you need to get started.
Install the Scopa Script on your website
Copy and paste the complete Scopa Script to your website header or tag manager. The code should be on all pages of your site to enable shoppable product tagging overlays.
<!-- This site is optimizing their content with Scopa Shoppable Product Tagging - https://www.scopaanalytics.com/ -->
<script src="https://scopa-script.s3.amazonaws.com/scopaScript.min.js"></script>
<!-- https://www.scopaanalytics.com/ -->
Create your first Shoppable Product Tag
Now that your domain is set up properly and your website has the Scopa Script installed, we are ready to create our first tag. Go login to the Scopa web app at https://app.scopaanalytics.com/ and we'll get started.
First, navigate to the "Tag Content" page of the Scopa web app by clicking on the tag icon on the left navigation or the blue "Tag Content" button in the top right corner.
Now, all you need is the URL of the page you want to add shoppable product tags to. Under "Find Images from URL" paste your page's URL into the search box.
The search will pull up all images on the mobile and desktop versions of that page. Simply click on the image you want to add tags to.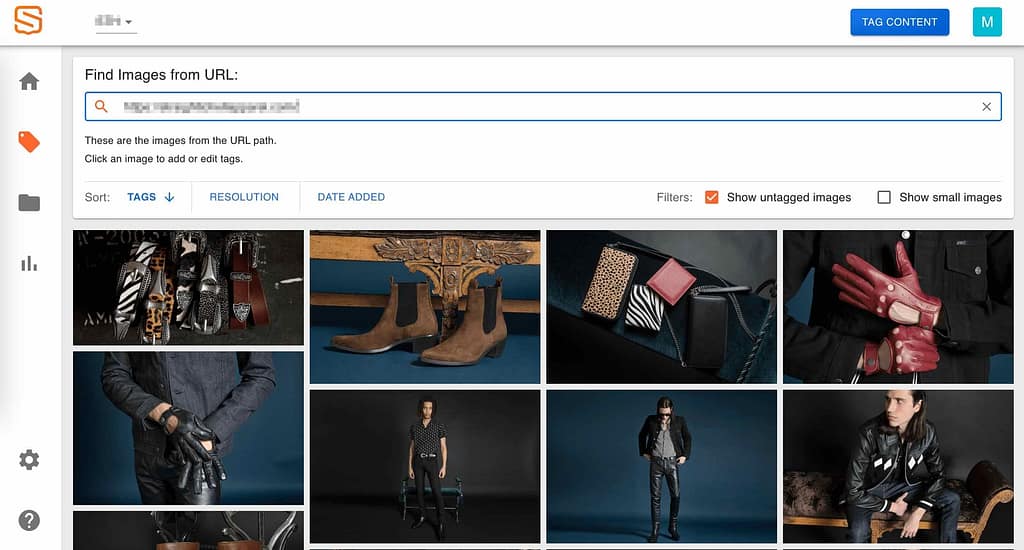 On the image editor, we can place the tags with a click. Click and drag the tag where you want it to show up. Fill out the different fields of each tag. The only mandatory fields are "Display Title" and "Destination URL".

Other fields are optional. Toggle fields like "Subtitle" and "Price" to customize a tag's appearance.
Attributes can be used for better data measurement and engagement analysis. To use attributes, create an "Attribute Category" like "color" or "department" and fill out the "Attribute Value" for the relevant tagged item e.g. "cheetah" or "accessories".
Lastly, at the bottom right, click on the orange circle to either preview or publish your work! Once published, the tags will be live on your website and automatically track your content's engagement.
Integrate with Google Analytics
Scopa's shoppable product tags have automated and customizable UTM parameters for easy tracking in all web analytics platforms. That being said, integrating your Scopa domain with a Google Analytics Property can give you great new levels of content insights and help you see the full impact of your content with revenue and conversion attribution per tag.
Find details on integrating Google Analytics here.