Faster checkouts.
Increase product-page traffic and streamline the customer journey.
Cross-selling done right.
Quick contextual cross-selling to boost AOV.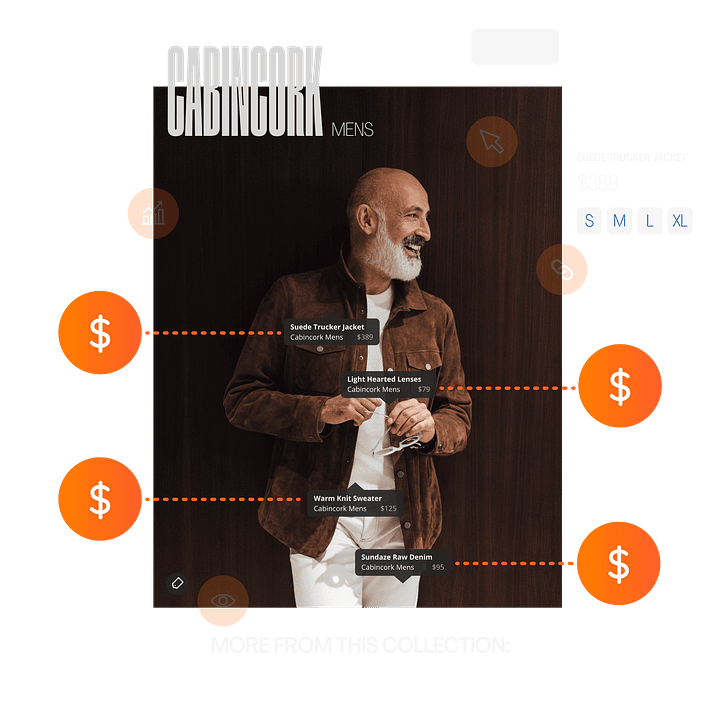 Analytics like never before.
Build a foundation for enhanced trend analysis and predictive performance optimizations.

Leverage new content and product-specific insights with each tag individually tracking metrics.
Never search again.
Take the guesswork out of shopping. Streamline the customer journey by tagging the products featured in your content and tagging them. Send users to product pages directly from the content.

Grow exposure, analytics, and sales.
Foster greater engagement with your catalogs, editorials, and store content. Users can see all the products they like from an image with one click. Streamline the purchase journey with tagging.
These additional views, clicks, and conversions each product receives from content tags will all be individually tracked. Those product-specific analytics on a macro scale let organizations easily identify trends, forecast performance, and increase sales the way never before possible.
"120,000 users hovered over the side table, 6,500 clicked on it and its CTR outperformed most other items. We should increase the amount of content from that collection for the remainder of the season."